KP Astrology International Journal I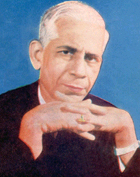 Centenary Celebrations
Our beloved Guruji
Late PROF.K.S. KRISHNAMURTI JI
How to get one?
Pay by Cheque / DD in favour of
KP Astrologers Forum, India
or by Online payment Bank Name: The Lakshmi Vilas Bank Ltd, Bank A/c No.30183735045.
Note: Book Postage Charges40.00 approx…
Limited Copies:
Book in Advance email to astro@astrouser.com
How to get it FREE ?
Enroll yourself as a Non-Resident Member of KP Astrologers Forum, India&Get  Free copies of Jan-Jun and Jul-Dec issues worth 200.00/- and rebate of 300.00 on International Summit Delegate Fees. (One KP International Summit will be organized in an year)
Annual (Non-Resident) Membership Fees is 500.00 only.
i.e. Get back 500.00 on Journals and rebate.
What else you get as a member?
  Membership of the National level KP Forum
  Networking with KP stalwarts
  Access to latest researches in KP
  Opportunity to share and publish your view points & articles in
  Forum Mettings, Journals & all KPAF Publications
  Access to expert Astrology Panel
  Auditing* to Special Guest Lectures